Jo Holland @ Gallery 1885
AfterBirth | AfterLife - diptych in celebration of life and death
Gallery Curator: Kate Coe
Exhibition Curator: Jo Holland
Web: www.thecameraclub.co.uk / www.joholland.com
Venue: Gallery 1885, The Camera Club, 16 Bowden Street, London, SE11 4DS
In conversation with Jo Holland
Bill Hart-French in conversation with Jo Holland
Film: Kate Coe
Virtual Gallery:
please scroll left or right to view the Gallery
AfterBirth | AfterLife
diptych in celebration of life and death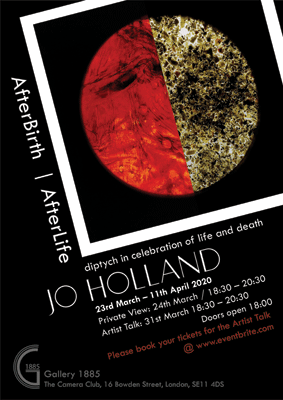 Poster artwork: Kate Coe
We all experience the heroic journey of birth, even if we don't remember it, and we will each experience the journey of passing through death when the time comes.
Working directly with both of the remnant materials we leave behind after each of these unified processes, human placenta and human ash, I invite you to take a moment to reflect on the journey between birth and death.
Contemplate your own unique journey of life and what this means to you.
"The person who conquers himself is a true hero. The real battlefield is not anywhere in this world, but in the world inside of us. All the time we need to fight against anger, delusion and greed which are the roots of all problems that affect us individually and the whole world.
Only the people who bring peace in this world by stilling their minds will deserve to be addressed as a hero"
Phra Pasura Dantamano
"THE IMPORTANT THING IS TO BE HERE IN SUCH A WAY THAT YOU ARE EXPERIENCING BOTH LIFE AND DEATH ALL THE TIME."
~SADHGURU~
Video by Jo Holland:
AfterBirth
AfterBirth, is created from human placenta. Via my unique darkroom based photographic process I create original photographs without a camera or film.
I begin with dissecting the placenta to create glass plates that I paint into over a number of weeks prior to exposing to light, using a lens, and recording onto Ilfochrome photographic paper.
AfterBirth, the beginning of a brand new life journey. The new beginning each and every human has in common with each other, we all enter this world in the same way. We each of us had a placenta.
We each of us come from Nature. We are each the same yet we are also totally unique. We are all one I offer you the opportunity to reflect and contemplate birth, life and death. I offer you the opportunity to reconnect with yourself whilst connecting to the vibration of the earth to ground yourself and observe your true nature.
Allowing yourself to simply be for a moment, to be present in this moment, to be fully present.
Interesting facts about this mysterious yet mighty organ:
The placenta is the only transient organ - this organ comes and goes after its purpose has been fulfilled. It is one organ yet acts as three - lungs, kidney, and the immune and gastrointestinal system.
The blood of both mother and baby pass through the placenta yet never mix.
The placenta is made from the Mother, Father and child - unity The placenta is a barrier, a protector and a nourisher
It has spiritual significance in some cultures - in Hawaii the placenta is considered part of the baby itself, in Nepal it is considered a friend of the baby and Malaysia it is considered an elderly sibling
Online gallery:
https://theexhibit.io/exhibition/afterbirth-afterlife-a-celebration-of-life-and-death
~ Jo Holland ~
Video by Jo Holland:
AfterLife
About Jo Holland:
Jo Holland creates photographic images without a camera or film.
Jo has always had a fascination with light and light recording. She loves to create original photographs via analogue process's that she further composes digitally to blend the classic with the contemporary.
Mark Osterman, Photographic Process Historian at George Eastman House
International Museum of Photography and Film in Rochester, NY, has explained 'the transcendental beauty of Jo's images is due to the combination of both transmissive and reflected light being recorded onto photographic paper'.
​Jo's artworks are focused on composition, balance and harmony, informed by her meditation practice and in ​celebration of nature, beauty and elegance.
Currently living and working in London, Jo exhibits nationally and internationally having recently been commissioned to create work for Harrods; Bhuti wellness centres in London, and One Fen Court a new building designed by EPA & owned by Generali.
Text: Jo Holland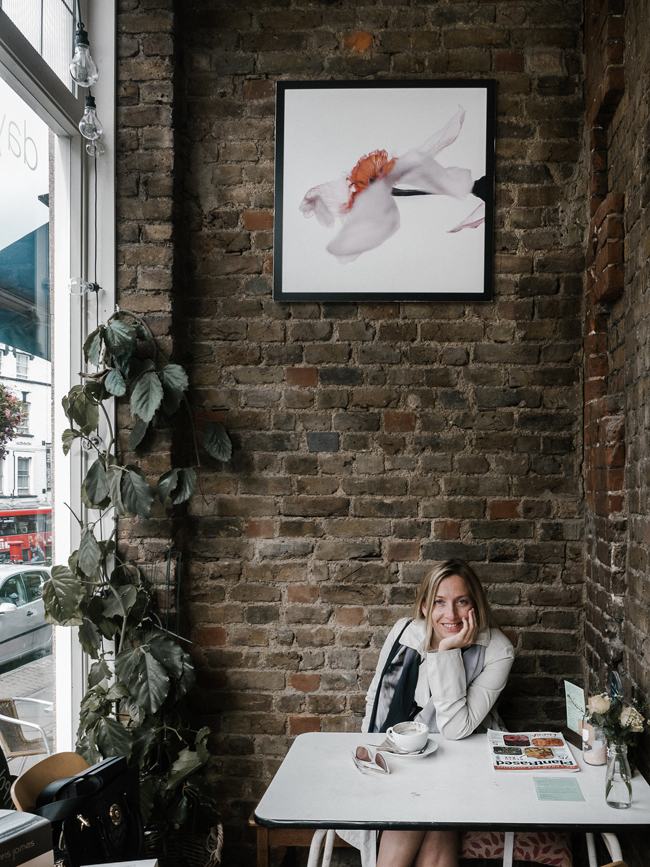 Photo: Gambetta Studio